Invisible
Professor Alison Kitson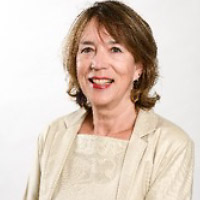 Professor Alison Kitson RN, BSc (Hons), DPhil, FRCN, FAAN, FAHMS

Matthew Flinders Distinguished Professor
Vice President and Executive Dean
Alison Kitson is recognised internationally as a leading research translation scientist, nurse leader and champion of improving fundamentals of nursing care research and practice. Her experience spans establishing national programs on standards of nursing care, supporting the development of national clinical guidelines and running a series of highly successful national clinical leadership programs in the UK while she was at the Royal College of Nursing (RCN). She has also established an international network (the International Learning Collaborative, ILC) in collaboration with Green Templeton College University of Oxford and other leading organization dedicated to the improvement of fundamental care across health and care systems globally.
Alison has spent several years in executive and academic leadership roles in the UK before moving to Australia to take up the role of Head and Dean of the School of Nursing at the University of Adelaide in 2009. During her time the school quadrupled in size and was one of the top performing nursing research groups in Australia. Between 2013-2015 Alison was in the role of Executive Director of Nursing at Central Adelaide Local Health Network (a joint appointment between the university and the health network), where she was responsible for the nursing innovation and reform agenda. In 2017 she was appointed inaugural Vice President and Executive Dean of the College of Nursing and Health Sciences at Flinders University, South Australia. She established the Caring Futures Institute in 2019, the first research institute in Australia fully dedicated to the study of care and self-care solutions to today's complex health challenges. Its research income in 2022 was $31 million.
Alison's contribution to nursing and health service research continues to be recognised. Honours include, Fellowship of the Australian Academy of Health and Medical Science (2015), an Honorary Doctorate from Malmo University (2013) Sweden and a Fellowship of the American Nurses Association (2011) for her work on standards of nursing care. In 2022 she was awarded the title of Matthew Flinders Distinguished Professor in recognition for her outstanding research leadership.
Melanie Briggs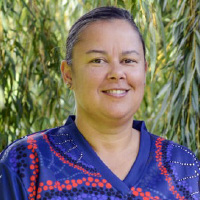 Ms Melanie Briggs, Endorsed Midwife
Melanie is a descendant of Gumbayngirr and Dharawal peoples who lives and works on Maramarang, Jerrinja, Wandi Wandanian, Cullunghutti and Wodi Wodi traditional lands. A mother of two beautiful children. Melanie grew up on Gamay Gadigal lands and has strong family ties along the east coast from La Perouse to Wreck Bay. Melanie has a Bachelor of Midwifery at the University of Technology Sydney, a Master of Primary Health Care at Griffith University and an Advanced Diploma in Leadership and Management MBA through University of new England.
Melanie is the Minga Gudjaga and Birthing on Country manager at Waminda South Coast Women's Health & Welfare Aboriginal Corporation and has worked in community for 10 years providing midwifery care to Aboriginal families on country. Melanie is a strong, cultural woman and is very passionate about improving the health and wellbeing of her people using a mixture of cultural and clinical midwifery skills during pregnancy and the postpartum period. As the Birthing on Country manager her leadership role is to guide, develop, implement a model of care that embeds cultural and clinical governance for safer birthing outcomes for First Nations families.
Kath Koschel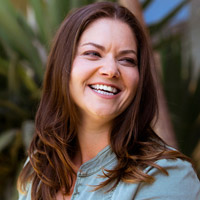 Kath Koschel
If breaking her back on two separate occasions and learning to walk for the third time in her life wasn't enough to break her, losing her partner, the love of her life to suicide pushed her terrifyingly close to the edge. Through her astounding resilience, Kath Koschel was able to create joy out of sorrow, to become one of Australia's youngest CEO's and the founder of the global movement and not for profit organisation Kindnessfactory.
Kath isn't your normal athlete. In fact, she's so modest she wouldn't even consider herself an athlete. But the former NSW cricketer has more fight in her than most professional athletes ever would. Kath's story is one of inspiration and utter strength; from a hospital bed defying a prognosis of paralysis to setting up a global movement that drives her every day desire to create a world where people are kinder to one another. There have been more than a few significant bumps along the way, but Kath has never let the setbacks get the better of her. With her physical and mental resilience, Kath has pulled herself through challenges that most of us could not comprehend, without letting them defy her belief that we all have the capacity for kindness.
Now known worldwide for her kindness adventures, Kath shares her journey of how she turned adversity into triumph, with the thoughts that lead her to leave her home with nothing but the clothes on her back in an attempt to prove that you really can survive physically, mentally and emotionally, on kindness. An outpouring of support and offers of food and shelter on social media had Kath travelling around Australia on the nothing but the kindness of strangers, spreading her message of hope.
Kath will inspire you to challenge the way that you see the world. She will take you on an emotional roller coaster, leaving you in awe of her incredible strength and determination to do and be better, regardless of the hurdles she has had in front of her. And she believes that anyone is capable of achieving the same.
Amongst all of her challenges, Kath still managed to be awarded the 2016 Pride of Australia Medal, raised over $300K for various charity organisations, completed an Ironman challenge with feeling in only one of her legs, is on the Board of the Australian Young Leaders Initiative, addressed the Australian Prime Minister, is currently training to swim the English Channel, was selected by Marie Claire as a 2017 "Woman of Worth" and is an active mental health advocate. She was also nominated as the NSW Local Hero in 2020.
Professor Brett Mitchell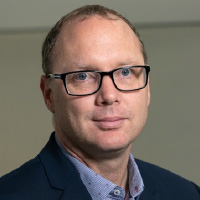 Professor Brett Mitchell
Professor Mitchell is a Professor of Nursing at Avondale University, adjunct Professor at the University of Newcastle and Monash University. He is Editor-in-Chief and has over 150 peer reviewed publications. Brett received 2022 Commonwealth Health Minister's Award for Excellence in Health and Medical Research, the first nurse to receive this award.
Key Dates
Abstract submission available online:
Available Now
Registration available online:
Available Now
Closing date for submission of abstracts:
Friday 2nd December 2022
Notification of accepted abstracts:
Friday 27th January 2023
Closing date for 'Early' Registration:
Friday 10th March 2023
Express Your Interest
Fill in the expression of interest form to be kept up to date with information on the 7th Australian Nursing and Midwifery Conference.
Join our mailing list